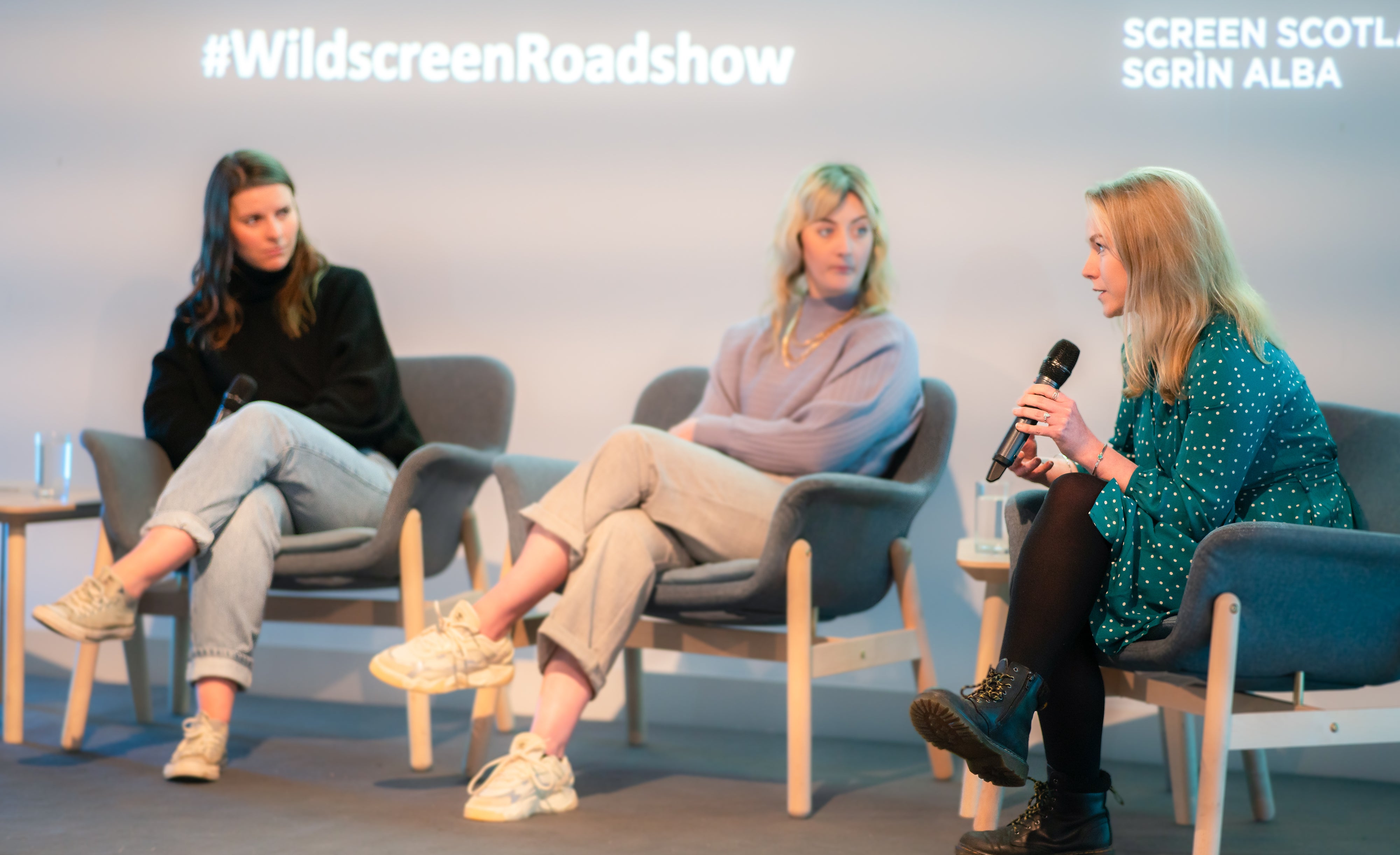 Rachel Brooks - Wildlife Artist & Storyteller
Rachel is a professional wildlife artist, scientific illustrator, story teller, scuba and wildlife guide. As an accomplished scuba diver, instructing for over 8 years in world class locations such as the Lembeh Straits, Great Barrier Reef, the Ningaloo Reef World Heritage Site and the Sea of the Hebrides MPA, she has a personal connection to her subjects. Her time in the field inspires her creations, for Rachel, these two disciplines go hand in hand.

Let's work together
Looking for a passionate and engaging contributor or speaker for your project? Enquire below for interviews, media appearances and workshops delving into captivating discussions about Artivism, diving, wildlife art, basking shark research and conservation.
Scuba Diving Magazine - Contributor
Two of my illustrations were published in the June issue of Scuba Diving Magazine, including this full page feature, representing scuba diving and climate anxiety.
Enquire


Simple Things Magazine
June 2023
An interview feature on Women & the Ocean.

Oceanic 31
Nov 2022 - Present
A collaborative exhibition with The Shark Trust, which is currently touring the UK.
Learn More

Wildscreen
March 2023
Guest Speaker on the Oceans Panel at Wildscreen the Roadshow, Glasgow.

UN Biodiversity
April 2023
Guest editor for the UN Biodiversity Instagram account
Instagram

NUPG
Jan 2023
Guest speaker for the monthly Northern Underwater Photography Group

World of Sharks
Sept 2022
How can art help shark conservation? A podcast with the World of Sharks
Listen now
Climate Creatives Challenge
Feb 2023
"Beautiful intricate use of illustration within this piece reflecting that time is indeed running out. Love the optimism that we can turn things around and the flight of the blue spix macaw inspires hope that we haven't lost the last of these creatures from the wild."
learn more
Sketch For Survival
Sept 2022
My art work of John Coe was selected for the final shortlist in Wildlife 100 Artist of the Year
Learn more

SHARK British Isles
JAN 2022
Interviewed as resident Zoologist and Guide about basking sharks in the Hebrides

Shark Guardian
Nov 2021
Featured as EcoArtist of the month for November with written and live interviews
read more

World of Sharks
NOV 2021
What do basking sharks eat? A podcast with the World of Sharks
LISTEN HERE

RSPB
Oct 2021
Illustrator for the RSPB COP26 campaign, designing merchandise celebrating British marine life
read more

Sony World Photo
April 2020
Shortlisted photograph from the Sony World Photography Awards published in the Mail Online
See more
Sony World Photography Awards
My image of 'Nemos Nightmare' was selected for the Natural World & Wildlife Shortlist in 2020
Learn More

A selection of the brands & organisations Rachel Brooks has worked with
© All logos property of respective organisations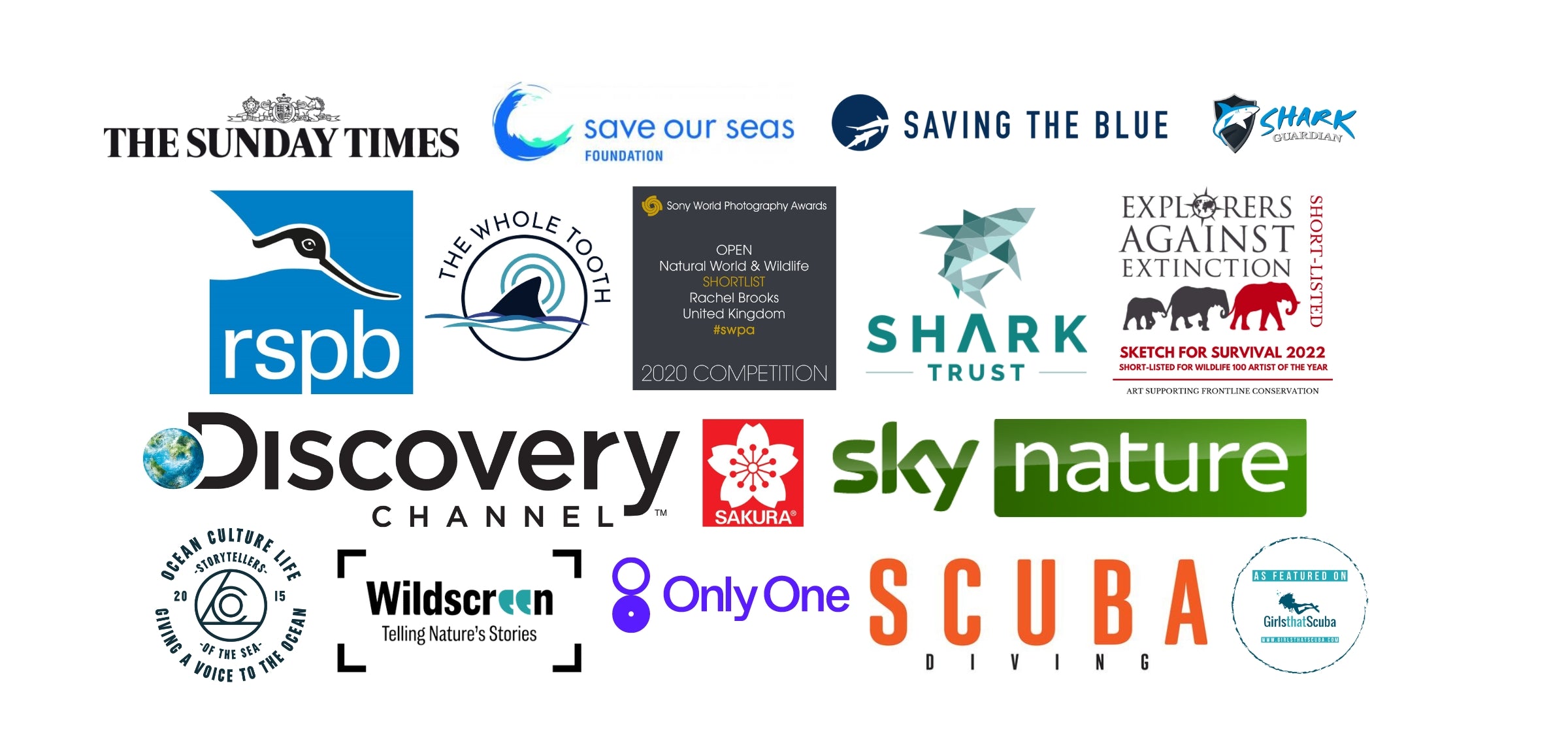 Work with Rachel
Fill in the contact form and we will reply as soon as possible